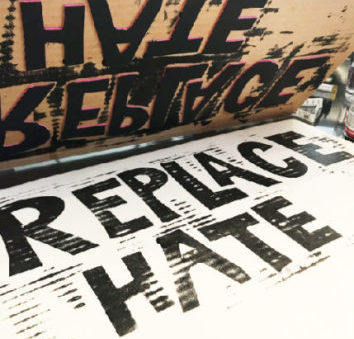 HOW IT STARTED
In the weeks following the 2016 Presidential election, the United States saw an unprecedented rise in hate speech, hate crimes, vandalism and violence against minorities and people of color. (SPLCenter). Talk of racism, bigotry and hate began making its way across America and onto college campuses.
HATE HITS HOME
When white supremacist recruitment posters went up on the campus of Kutztown University, Professor Vicki L. Meloney in the Communication Design department didn't get mad, she got creative. She quickly sent an email to her students offering them extra credit for transforming the hate posters into something beautiful. She told the students they could cut and collage it, fold it, or use it as a canvas to transform the meaning. She asked them to replace the hate with something hopeful. The email made its way to social media where there was an outpouring of interest and support. Within 24 hours the post received more than 20,000 "likes" and had almost 2000 comments, all with encouraging words. Everyone wanted to see what the students had created. The response was so great, that she and her colleagues realized that this was a teachable moment in history which encouraged the design educators to do more.
Professor Meloney reached out to Doris Palmeros, a Professor in the Graphic Design Department at University of the Incarnate Word in San Antonio, Texas. Professor Meloney and Professor Palmeros are great friends that attended graduate school at Temple University's Tyler School of Art years before. The goal was to co-organize a community based image-making workshop that would promote anti-hate messages in a bipartisan atmosphere. The idea of bringing people together to share a space in two separate locations across the U.S., to make art, with the purpose of creating something positive, was invigorating.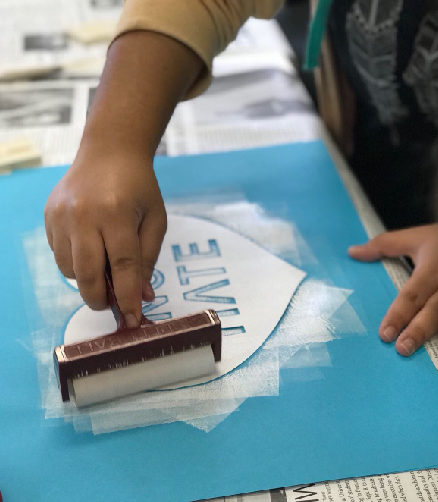 THE OUTCOME
The first workshop was an unexpected success. More than 100 students, faculty, staff and community members showed up to participate in the anti-hate art making workshop. Upon hearing of the event, it was clear that people had a desire to come together and to let their visual voices be heard.
Community members young and old from all walks of life, no matter their race, gender, religion or political affiliation, joined the graphic design students and came together not knowing what to expect, but knowing that they were not happy about the threat of hatred encroaching onto their campus, in their towns and into their lives.
REPLACE-THE-HATE IS BORN
It seemed that the email to the students had hit a collective nerve and ignited an interest that demanded a response. With an outpouring of interest and support, Replace-the-Hate was born. Replace-the-Hate is a grassroots effort led by design educators to build communal ties, renounce hate and rejoice in diversity through creative expressions and community art making workshops.
Since that initial event, Vicki L. Meloney and Doris Palmeros have been asked to organize similar workshops, speak at national and international conferences and curate a traveling gallery exhibition.