WRITTEN BY RON DEVLIN
KUTZTOWN, PA —Peace.Love.Kutztown, a community wide response to hate speech that surfaced last year at Kutztown University, explained its mission at the 10th Pennsylvania State System of Higher Education Summit on Inclusive Excellence and International Education recently at West Chester University.
The summit, whose theme was Intersectionality: Moving Beyond the Margins, was held Nov. 16-17 in Sykes Student Union building at West Chester.
A panel that included Kutztown University President Kenneth S. Hawkinson and Beth Patten, a social studies teacher at Kutztown Middle School, outlined strategies Peace.Love.Kutztown has developed to combat speech and literature distributed by hate groups.
"Our grass-roots community initiative has become a unifying force that has led to a more inclusive community and stronger town-gown relations," Kutztown University professor Jennifer R. Schlegel said in introducing the panel. "The panelists are prepared to share their perspectives with other communities in the PASSHE system and beyond."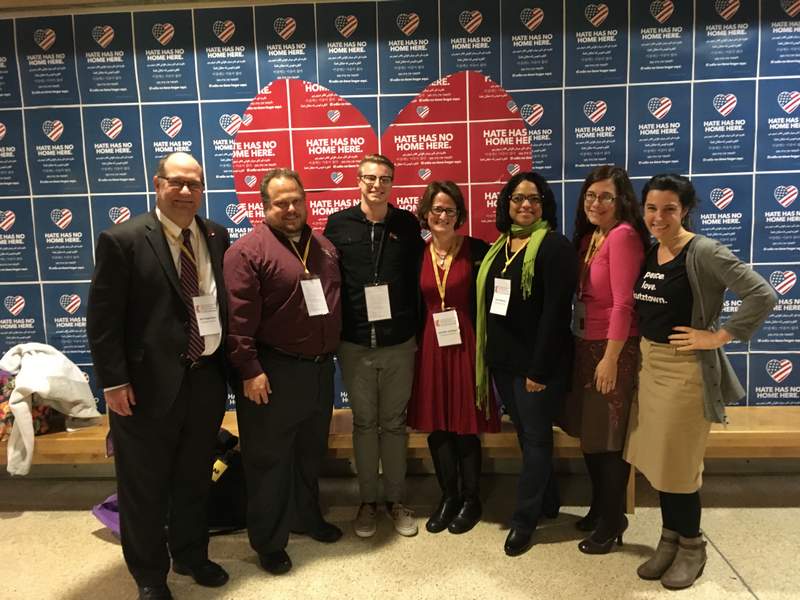 West Chester University President Christopher M. Fiorentino, Patten said, indicated interest in continuing a dialogue with Kutztown.
The Kutztown initiative's slogan, Stop the Hate Together, reflects a broad community approach. Its banner depicts a goldfinch, tulips and a heart – unifying symbols in Pennsylvania Dutch culture.
Panelists in "Bridging Communities and Responding to Hate at Kutztown" included Nikolai Blichar, a Kutztown graduate student; Caecilia Holt, Kutztown school director; Vicki L. Meloney, professor of graphic design at Kutztown; and Jerry Schearer, Kutztown's associate dean for inclusion and outreach.
Schlegel, associate professor of anthropology, said Peace.Love.Kutztown has drawn on local strengths to create communitywide alliances against hate.
The initiative follows the model of "Be, See, Do" that each PASSHE community could draw on the strength of its local culture, Schlegel said.
"Kutztown is being itself, seeing what's happening in our community and doing what matters to bring people together and create the community they desire to be: Peace.Love.Kutztown," Schlegel said.
Holt, owner of Young Ones Record Store in Kutztown, said businesses have responded to draw attention to the initiative's goals.
Businesses on Main Street posted art created by Kutztown children who participated in a coloring contest with an anti-hate theme. The visibility, Holt said, called attention to the need for an initiative like Peace.Love.Kutztown.
Dr. George Fiore, Kutztown superintendent of schools, was not on the panel but lent his support to the initiative.
"Today our students are bombarded with so many negative influences that it is important we take an active role in demonstrating the positive effects of altruism and good citizenship," he said. "The partnership between our school district, Kutztown University, businesses and the community shows we are committed to creating a better tomorrow for our students."